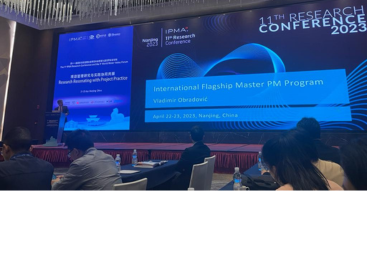 06 May

Collaboration at the 11th IPMA Research Conference

The 11th IPMA Research Conference, a premier project management research event, was held in Nanjing, China. Prof. Vladimir Obradović, IPMA Vice President, Prof. Marija Todorović, IPMA Research Coordinator, and Vladana Stepanović, IPMA Awards back-office, all actively participated in this top-notch occasion.

TDuring the "Project Management Education Cooperation Forum" panel, professor Obradović presented a concept for the International Flagship Master Project Management Programme. Professor Obradović, who oversees IPMA Events, had the distinction of presenting Professor Anbang Qi with the IPMA Global Research Achievement Award at the Research Award Gala dinner alongside Prof. Mladen Vukomanović.

At the Conference's opening ceremony, Prof. Marija Todorović introduced Research Hot Words in Project Management. Additionally, she co-authored a paper with professors Vladimir Obradović and Danijela Toljaga-Nikolić titled "Project Management Awards and Professional Development: The Evidence from IPMA" and served as the chair of the Research Awards Panel.

Vladana Stepanović has been in charge of managing various aspects of the Research Awards, including the gala dinner and the panel discussion that took place on-site.

Professor Obradović has visited ZTE Corporation as part of an IPMA high-level delegation, a Chinese multinational telecommunications equipment and systems company based in Shenzhen, China, that provides innovative and cost-effective products and services for telecommunications operators worldwide. To create new value of project management in the digital era, both parties plan to work closely together in the areas of standard research, best practices in project management, and professional talent training.

The 11th IPMA Research Conference was an opportunity for academics and industry professionals to meet, share their knowledge, and launch international research projects and networking opportunities. The IPMA Member Association – Project Management Research Committee, China (PMRC), and Hohai University in Nanjing collaborated to put on this year's conference.

Both the School of Economics & Management at the University of Science & Technology in Beijing and the School of Management & Engineering at Hohai University in Nanjing invited Professors Obradović and Todorović to give a lecture on the topic of Project Management Competencies – IPMA Ecosystem.

The "Project Management Education Cooperation Forum" held within IPMA's 11th Research Conference provided a fantastic setting for discussing potential avenues of future research and study collaboration during campus visits.

Professors Obradović and Todorović, together with IPMA delegation had an important meeting with top management of Aihua International Education Technology Group, the leader in the Chinese higher vocational education and continuing education market, and representatives of Ministry of education of the People's Republic of China. The meeting's main focus was on how to advance project management education in the coming years.

For this reason, IPMA and Aihua plan to work together to develop market-wide standards for vocational education and training in China, which will help advance the country's ongoing effort to bring its educational system into the modern era and expand employment prospects for those who earn degrees from the country's many prestigious professional universities.

Looking forward for the next research and education projects.