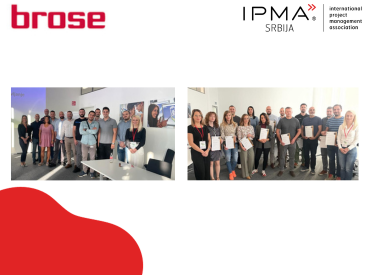 27 Oct

Colaboration with Brose company

IPMA Serbia has started in October, 2023 the collaboration with Brose company, forth-largest automotive supplier. Brose company has officially become our IPMA Serbia gold partner.
This collaboration was initiated with a training in project management for the Brose employees. The training meets the highest international standards for training in this field, which is verified by the registration in the IPMA REG System, a system of globally recognized and registered training and educational courses according to International Project Management Association – IPMA standards.
Trainees gained points for continuing professional development, especially important for individuals that are developing their career in project management. The training, tailored to the specific needs of Brose, focused on key behavioural competencies that are crucial for effective project management.
The cooperation with Brose company is one of the examples of a good practice when a company identifies opportunities to enhance the competencies of its employees with the goal of achieving greater efficiency and successful project management. This training demonstrates Brose's commitment to developing its employees and continuously improving their skills in project management, further contributing to the success of the company by enabling its employees to lead projects and achieve exceptional results more effectively.
IPMA Serbia, among many activities, is organising a various events (congress, panels on specific topics, workshops for young people etc.), that presents potential activities in collaboration with the Brose company.
Brose, as one of the leaders in the automotive industry, recognizes the importance of a professional development in project management, and our collaboration presents a significant step in enhancement and promotion of project management in Serbia.